15 May

Outdoor Trends Continue to Soar Throughout CT

In the midst of spring, and while summer is quickly approaching, many of us scramble to get our yards ready in order to enjoy the great outdoors.

But, there's no need to worry, we are here to help you by providing refreshing ideas for outdoor trends that will certainly add beauty and functionality to your property. No matter your taste or preferences, there is a trend that will work to personalize your own outdoor living space. And remember, Rock Landscaping & Construction, LLC is here to answer any questions you may have.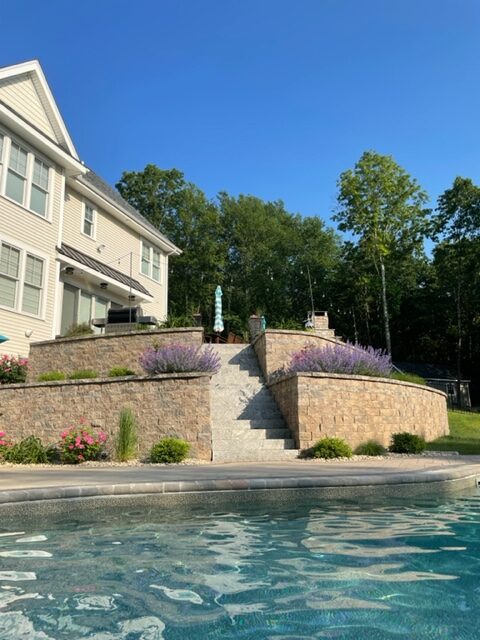 Local Connecticut Outdoor Trends
Integrate Both Worlds Seamlessly:
A top trend this year is to integrate the indoor of your home to the outdoors, seamlessly and fluidly. By doing so will create a welcoming space for all your guests to enjoy while increasing your living space out to a patio, deck or lawn. A way to do this is to select outdoor-friendly furniture and accessories that will blend nicely with your interior design and furniture. This will automatically forge a mesh between your indoor and outdoor areas.
Serenity Stone Walkways:
Another popular trend is to have a welcoming walkway designed within your yard, leading you or your guests to a garden, a leisure area to relax in, or even directly into your home, garage or shed. Creating a stone path will add charm and warmth to your yard.
Street-Facing Living Areas:
Many homeowners are choosing to have a patio area in front of their house. A street-facing space can enhance the curb appeal to your home and may even boost the value to your property as well. You too can have a party-ready front patio to hang out at.
Passion for Patios:
Patios are in high demand and it doesn't matter the size or shape of it either. A patio is simply a place to gather and entertain more freely and naturally. You can have a simple patio design with a stone built firepit, or a more elaborate one that includes a full outdoor kitchen. The decision is yours, but don't be afraid to make it your own. Think outside the box when it comes to shape and designing your patio.
Other Outdoor & Garden Trends:
From colors, fabrics and furniture the possibilities are endless when it comes to decorating your outdoor oasis and since there's plenty to choose from, you are sure to find a style that fits your individual lifestyle.
Show Your True Colors
This year, the outdoor colors of the spring and summer seasons consist of; tans, whites, blues, greens and magenta. But expect a shift in the furniture trends.
You'll begin to see more sustainable materials to be used for outdoor furniture. Items such as, reclaimed wood tables, lounge chairs made with landfill and ocean-bound plastic, as well as biodegradable planters.
You can always mix and match fabrics and materials to make it more of an eclectic sense of style. Don't be afraid to let your outer creativity and beauty shine.
As for gardens, the trend that keeps growing will be implementing drought-resistant plants in landscape designs. Many individuals are concerned with the changing of our weather patterns; therefore, they are opting for more resilient plants.
In conclusion, there's several different styles and ideas to choose from in order to create your individual outdoor living space. Have with it and just be sure to go out there and enjoy! Rock Landscaping & Construction, LLC is your go-to hardscape and landscape construction firm – conveniently located in East Hampton CT. They've been offering exceptional services throughout central CT for nearly 25 years. For additional information, contact them today.
Your outdoor oasis awaits you!
www.rock-landscaping.com
860-829-ROCK (7625)